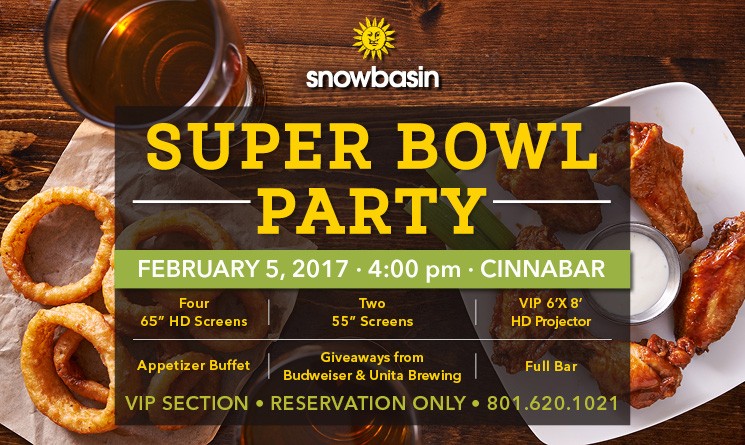 Snowbasin Super Bowl Party
via Snowbasin:
Join us at the Cinnabar for an awesome Super Bowl party with great food and full bar at the Cinnabar. Luxurious viewing with some of the best high tech screens in the area. (4) 65" HD screens as well as (2) 55" screens and the Mack-daddy 6'x8′ HD projector in the VIP room. There will be an all you can eat appetizer buffet with giveaways compliments of Budweiser and Uinta Brewing. The place to be after a great day out on the mountain. Reservations are recommended for regular seating and if you would like to be in the VIP section reservations are required. Call 801-620-1021. Cost for regular seating is $30
First Half Menu:
Fajita Bar
Pulled Pork Sliders
Meatballs with MArinara and Hoagie Rolls
BBQ Chicken Pizza
Soft Pretzel with Bacon Beer Cheese
Snowbasin Wings
NFC Team Special
AFC Team Special
Second Half Menu:
Brownies
Cookies
NFC Team Special Item Dessert
AFC Team Special Item Dessert
Ice-Cream with Topping Bar
VIP Section – Reservation Only
Special reserved section in the Huntington Room with all large screens and added bonus of more appetizers including Sweet and Sour Meatballs, Spinach and Caramelized Onion Dip, and Pizza Dip.