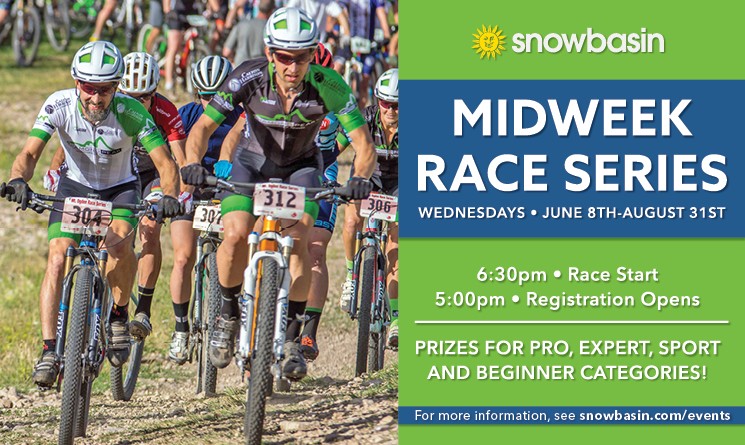 Midweek Race Series at Snowbasin Resort
Every Wednesday June 8th – August 31st
5:00pm – 6:00pm Registration
6:30pm Race Start
$15.00 race registration per night and $5.00 one time plate fee for series
Purchase for the whole season and save money! $150 for all races. $190 all races and Summer Gondola Pass.
Categories for both Men and Women:
Pro – 6:30pm start
Expert – 6:31pm start
Sport – 6:32 pm start
Beginner 6:33pm start
Kids Races – $5.00 entry – 6:45pm start
All racers must fill out a release form for the season. Minors must have a parent or legal guardian sign the release form. Helmest must be work by all racers anytime they are on bikes.
Prizes for Pro – Expert – Sport – Beginner Divisions
Each race will have a prize for 1st, 2nd and 3rd place in each division, male and female. Points are awarded to racers based on finish placements and are cumulative throughout the season. Series winners will be recognized at the last race of the season.
For more information, call (801) 620-1045
Sponsors:
Diamond Peak
City Cycle
Bikers Edge
Skyline Cycle
Hyperthreads
Enve
2nd Tracks