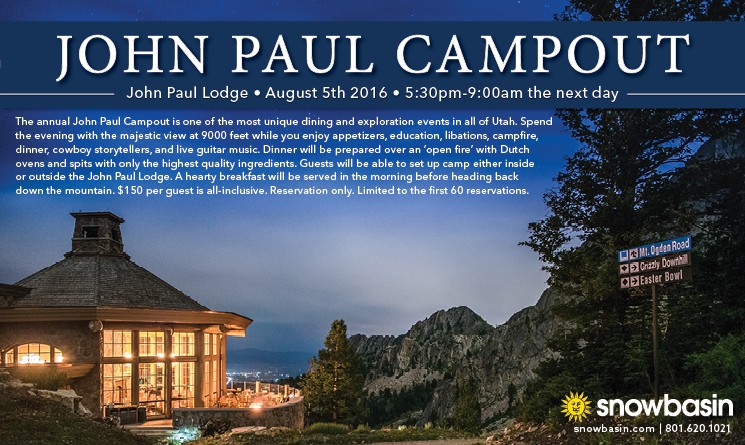 John Paul Lodge Campout
August 5th 2016
5:30pm-9:00am the next day.
Price: $150 per person includes all food, beverage, and hospitality
Take the John Paul Express Chair up the mountain and explore the geological remnants of an ancient ocean floor while enjoying the majestic view at 9000 feet. The event will go overnight, where guests will be able to set up camp either inside or outside the John Paul Lodge. Appetizers, education, libations, campfire, dinner, cowboy storytellers, and live guitar music will occupy the evening and then a hearty breakfast will be served in the morning before heading back down the mountain. This will be one of the most unique dining and exploration events in all of Utah. Dinner will be prepared over an 'open fire' with Dutch ovens and spits with only the highest quality ingredients. Guests will be able to help prepare items if they would like. The event includes all food, beverages, and transportation up the mountain. This is a Dining Discovery Culinary Expedition experience of a lifetime. $150 is all-inclusive and includes all taxes and gratuity.
Reservation only 801-620-1021 Limited to the first 60 reservations.