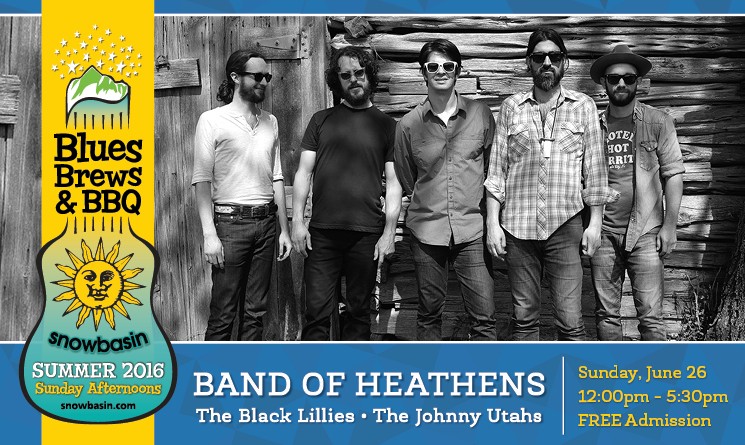 Snowbasin Blues, Brews & BBQ – Band of Heathens
About the artists:
The Band of Heathens
Celebrating ten years together, The Band of Heathens is set to embark on a banner year with founding members Ed Jurdi (guitar, keys, vocals) and Gordy Quist (guitar, vocals) along with Trevor Nealon (keys, vocals), Richard Millsap (drums, vocals) and Scott Davis (bass, vocals). Fresh off the boat from the SiriusXM Outlaw Country Cruise, this Austin, TX based world class rock n roll outfit has two new releases slated for 2016. The Green Grass EP premieres four new BOH originals and a faithful cover of The Band's "Bessie Smith," featuring Joe Fletcher, and will be followed by their 8th full length album tentatively slated for release in September.
Watch/Listen: bandofheathens.com/music
__
The Black Lillies
Watch/Listen: theblacklillies.com/music
__
The Johnny Utahs
Watch/Listen: reverbnation.com/thejohnnyutahs
***No outside food or beverage allowed in the music venue or the lodge. Utah State Law prohibits the possession and consumption of outside alcohol including beer & wine on premise. Bags may be subject to search at the music venue gate and any alcohol or outside food may be confiscated.
Dogs are allowed in the music venue, but they must be on a leash at all times, and they must stay on the grassy areas. Dogs are never allowed in the lodges or on the patio, with the exception of service dogs. Umbrellas, shade tents and chairs are allowed, but please be courteous of other guests.
If you have a tent or umbrella, please set it up near the back of the venue and do not block other's views. Low chairs welcome towards the front (cannot fit a basketball underneath) but if you have higher chairs, please move towards the back.
Share your photos using #SnowbasinBBBBQ!