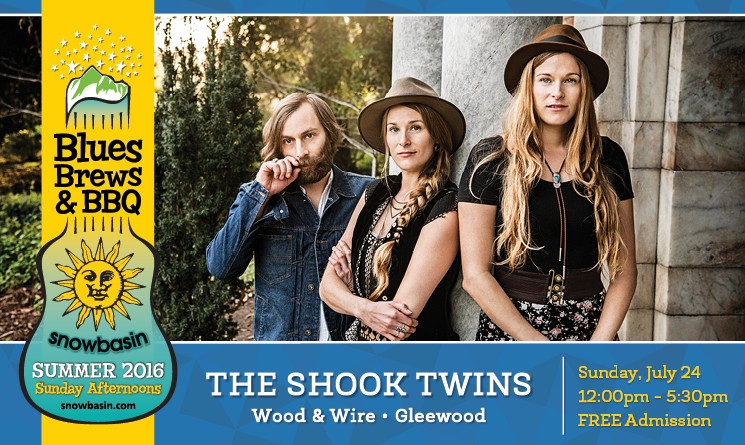 Join us on the lawn at Earl's Lodge on Sunday, July 24 for the Blues, Brews & BBQ FREE Concert with The Shook Twins, Grant Farm and Gleewood! Bring the family to Snowbasin Resort for award-winning BBQ, family friendly activities and free live music for all ages! Every Sunday in the summer 12:00pm – 5:30pm. Only at Snowbasin Resort.
The Shook Twins
Born and raised in Sandpoint Idaho, Shook Twins are an Indie folk-pop band hailing from Portland, Oregon. Identical twins, Katelyn and Laurie Shook, and Niko Daoussis form the band's core. Central to Shook Twins' sound is their wide range of instrumentation: banjo, acoustic and electric guitars, electric bass, mandolin, electronic drums, face drum (beatbox), glockenspiel, ukulele, banjo-head drumming and their signature Golden Egg. Beautiful twin harmonies, layered upon acoustic and electric instrumentation, coupled with Laurie's inventive use of percussive and ambient vocal loops, and Katelyn's repurposed telephone microphone, set their sound apart, creating a unique and eccentric blend of folk, roots, groove and soul.
Watch/Listen: shooktwins.com
__
Grant Farm
Boulder, Colorado-based Cosmic Americana band Grant Farm has entertained a growing fan base on the nation's club and festival scene since its founding in 2009 by vocalist and National Flatpicking Guitar Champion Tyler Grant.
Built on the fundamentals of love, family, and music, the band is a sure bet for fans of high-energy, authentic artists as diverse as Sturgill Simpson, Tedeschi Trucks Band and Phish. Comprised of zany, creative and highly musical comrades, Grant Farm members include Grant (aka "The Champ"), Adrian "Ace" Engfer (bass and vocals), Sean "Magic" Macaulay (drums) and Kevin "Money" McHugh (keyboards and vocals).
Watch/Listen: grantfarm.net
Gleewood
Gleewood is a musky Americana act based out of New Mexico that swaggers through blues, folk, and rock 'n' roll, with lyrics that lend a story to folk and roots music enthusiasts with an energy that swells into energetic guitar solos from the heart of the psychedelic 60s. Gleewood is steeped in a vintage vibe and is poured out over an icy fresh dose of the 21st century. Jhett's bass baritone grit welds uniquely with Callie's high, clear, soprano vocals to create a sound that Echo House described as "Coffee and cream."
Watch/Listen: gleewoodmusic.com
Share your photos using #SnowbasinBBBBQ!
***No outside food or beverage allowed in the music venue or the lodge. Utah State Law prohibits the possession and consumption of outside alcohol including beer & wine on premise. Bags may be subject to search at the music venue gate and any alcohol or outside food may be confiscated.
Dogs are allowed in the music venue, but they must be on a leash at all times, and they must stay on the grassy areas. Dogs are never allowed in the lodges or on the patio, with the exception of service dogs. Umbrellas, shade tents and chairs are allowed, but please be courteous of other guests.
If you have a tent or umbrella, please set it up near the back of the venue and do not block other's views. Low chairs welcome towards the front (cannot fit a basketball underneath) but if you have higher chairs, please move towards the back.
Chill out on the lawn with a blanket, have a beverage, and listen to some incredible FREE live music! The fun starts every Sunday at 12:00pm and goes until 5:30pm. Delicious BBQ lunch in Earl's Lodge is available ( see MENU ) as well as several local brews on tap. There are also activities and games for the kids including a bungee jump, climbing wall and playground. Blues, Brews, and BBQ is the must-do event on your Sunday-Funday list. Always free.