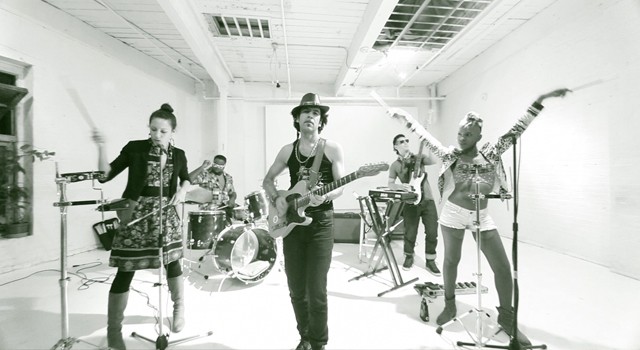 Snowbasin Blues Brews & BBQ – Pimps of Joytime
Join us on the lawn at Earl's Lodge on Sunday, August 23 for our Blues, Brews & BBQ FREE Concert Series with Pimps of Joytime, Kris Lager Band, and Nate Robinson! Bring the family to Snowbasin Resort for award winning BBQ, family friendly activities, and free live music for all ages! Every Sunday through the summer 12:30 – 5:30pm. Only at Snowbasin Resort.
About the artists:
Pimps of Joytime – Let's take it higher. Anyone familiar with the Pimps of Joytime live experience knows the feeling—it's that moment when a deep bluesy groove morphs into a full-on EDM dance beat, or the sensation when the wide-eyed audience collectively elevates in sync with the band's tangible energy. You might accurately call the Pimps of Joytime a 'post-genre' band; they're a group whose sound—even within a single song—mirrors the diversity of our era's musical tastes. "It's a sonic tapestry that's representative of this time and place that we live in," says Brian J. That's where the Pimps excel, by mashing up '70s funk tones with modern dance beats, mixed with original samples creating their mosaic sound. For listeners weary of today's DJ culture but eager to dance with abandon, the Pimps of Joytime are the antidote.
Watch/Listen: pimpsofjoytime.com/videos

__
Kris Lager Band, the Thrift Store Junkies from the heartland, play soul music and Boogie Trance. With their hot new album 'Swagadocious' these self-proclaimed 'Rock Revivalists' are quickly spreading their celebrate life mantra to the masses, and blazing a trail that many more are sure to tread and follow. The Kris Lager Band has spent the better part of ten years on tour honing their sound, style, and message, including backing Mato Nanji, as Indigenous from 2007 to 2009. During that period they were featured on the Vanguard Records release Broken Lands produced by Jamie Candiloro (REM, Willie Nelson, Ryan Adams). KLB is spearheaded by singer, guitarist, and songwriter Kris Lager, who rips out face melting solos and hypnotic riffs. Jeremiah Weir on keyboards and percussions is the perfect melodic counterpart and always brings the high holiness to the stage. The backbeat of the band is brought to you by freestyle extraordinaire John Fairchild, who has logged seven years with the group and is a tour de force on the kit. Brandon Miller rounds out the ensemble on bass with a solid low end that holds it all together and a high kick Chuck Norris would be proud of.
Watch/Listen: www.krislagerband.com/?page_id=31
__
Nate Robinson was born and raised in the sleepy suburban area of Utah Valley, Utah, and began playing music through piano lessons at the age of 5. At the age of 12 he was introduced to the drums and in 1992 was offered a musical scholarship to the University of Utah, performing in the Drum line, Wind symphony, Percussion and Jazz ensembles. After years of playing drums in local Utah punk/ska favorites such as Stretch Armstrong and My Man Friday, Nathan began playing for the SLC ska group Sturgeon General on the Radical Records Group out of NYC. He toured the nation relentlessly for 2 years before returning to Utah, switching from drums to guitar and forming his own ska/reggae group "Two and a Half White Guys".
Watch/Listen: www.naterobinsonmusic.com/solo
—
Chill out on the lawn with a blanket, have a beverage, and listen to some incredible FREE live music! The fun starts every Sunday at 12:30pm and goes until 5:30pm. Delicious BBQ lunch in Earl's Lodge is available ( see MENU ) as well as several local brews on tap. There are also activities and games for the kids including a bungee jump, climbing wall and playground. Blues, Brews, and BBQ is the must-do event on your Sunday-Funday list. Always free.
Full Schedule HERE
Share your photos using #SnowbasinBBBBQ!
***No outside food or beverage allowed in the music venue or the lodge. Utah State Law prohibits the possession and consumption of outside alcohol including beer & wine on premise. Bags may be subject to search at the music venue gate and any alcohol or outside food may be confiscated. Dogs are allowed in the music venue, but they must be on a leash at all times, and they must stay on the grassy areas. Dogs are never allowed in the lodges or on the patio, with the exception of service dogs.***