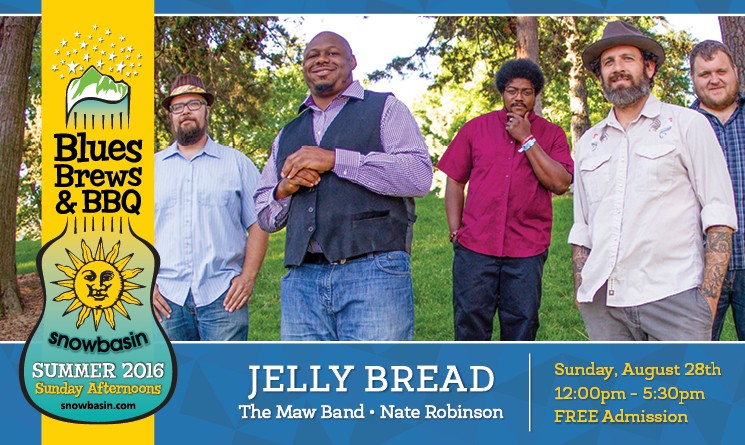 Snowbasin Blues Brews & BBQ – Jelly Bread
Join us on the lawn at Earl's Lodge on Sunday, August 28 for the Blues, Brews & BBQ FREE Concert with Jelly Bread, The Maw Band and Nate Robinson! Bring the family to Snowbasin Resort for award-winning BBQ, family friendly activities and free live music for all ages! Every Sunday in the summer 12:00pm – 5:30pm. Only at Snowbasin Resort.
About the artists:
Jelly Bread
Over a few short years of touring, Jelly Bread has risen from Reno/Lake Tahoe area favorites into a powerhouse quintet with a high-energy calling card that delivers a high-energy, chameleonic playlist all over the United States.  Jelly Bread's distinct style is identified by a blend of desert twang meeting the urban tones of funk and rock. Exceptional songwriting and storytelling interlaced with four part harmonies, intricate "in-the-pocket" drum and bass grooves, swampy lap steel guitar, dirt under the fingernails guitar licks, tasty talkbox, "take-'em-to-church" organ come together into a sound that is downright appetizing.
Watch/Listen: jellybread.net
__
The Maw Band
Maw Band, a quickly rising, powerful, acoustic driven rock, funk, bluesy band touring the old way and playing music to fans around the country. With influences from Dave Matthews Band, Umprey's McGee, Slightly Stoopid, Neil Young, Glen Hansard, Colin Hay, Jack White and more. The Band combines curious sounds and rhythms with insightful lyrics and rockin beats. Playing close to 100 shows a year, Maw Band is shaped by the sounds of (Drummer – Eli Preston)(Bassist -Brad Corbin)(Guitar -Thomas Farwell)(Guitar & Vocal – Brian Maw).
Watch/Listen: mawband.com
Nate Robinson
Watch/Listen: naterobinsonmusic.com
Share your photos using #SnowbasinBBBBQ!
***No outside food or beverage allowed in the music venue or the lodge. Utah State Law prohibits the possession and consumption of outside alcohol including beer & wine on premise. Bags may be subject to search at the music venue gate and any alcohol or outside food may be confiscated.
Dogs are allowed in the music venue, but they must be on a leash at all times, and they must stay on the grassy areas. Dogs are never allowed in the lodges or on the patio, with the exception of service dogs. Umbrellas, shade tents and chairs are allowed, but please be courteous of other guests.
If you have a tent or umbrella, please set it up near the back of the venue and do not block other's views. Low chairs welcome towards the front (cannot fit a basketball underneath) but if you have higher chairs, please move towards the back.
Chill out on the lawn with a blanket, have a beverage, and listen to some incredible FREE live music! The fun starts every Sunday at 12:00pm and goes until 5:30pm. Delicious BBQ lunch in Earl's Lodge is available ( see MENU ) as well as several local brews on tap. There are also activities and games for the kids including a bungee jump, climbing wall and playground. Blues, Brews, and BBQ is the must-do event on your Sunday-Funday list. Always free.
Full Schedule HERE