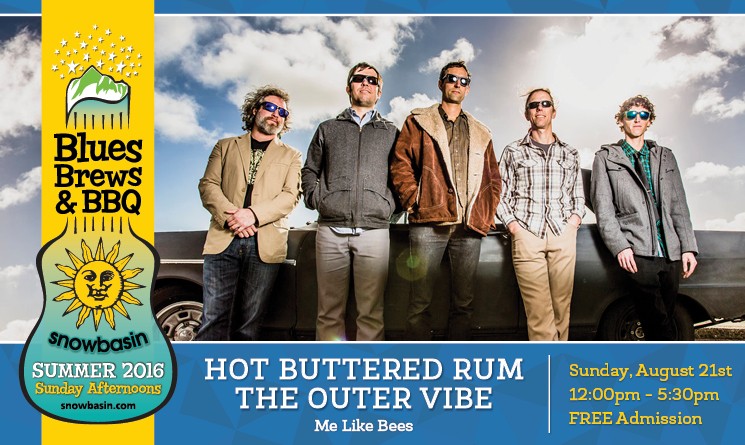 Snowbasin Blues, Brews & BBQ – Hot Buttered Rum and The Outer Vibe
Via Snowbasin:
Join us on the lawn at Earl's Lodge on Sunday, August 21 for the Blues, Brews & BBQ FREE Concert with Hot Buttered Rum, The Outer Vibe and Me Like Bees! Bring the family to Snowbasin Resort for award-winning BBQ, family friendly activities and free live music for all ages! Every Sunday in the summer 12:00pm – 5:30pm. Only at Snowbasin Resort.
Share your photos using #SnowbasinBBBBQ!
About the artists:
Hot Buttered Rum
Hot Buttered Rum lives for a good time, and a mindful recklessness settles in whenever these five guys step on stage. From Anchorage to Miami, the group's onstage chemistry fuels the lovefest that is a live Butter show. Rooted in the trajectory of west coast bluegrass, Hot Buttered Rum plays what has been described as California's own acoustic music.
Watch/Listen: hotbutteredrum.net
The Outer Vibe
"We like to call ourselves a musical adventure. We're a band of five friends who create, record, and perform music together. We travel all over North America in our Ford van (his name is Vanny DeVito), sharing our music and making new friends with people who love adventure, experiences, and living life to the fullest as much as we do."
Watch/Listen: theoutervibe.com
Me Like Bees
Me Like Bees is an American Indie Rock band hailing from the heart of Joplin, Missouri. Formed in 2009 the band has traveled thousands of miles and played hundreds of shows across the nation. By 2013, they released their first full length record "The Ides" (LoveWay Records) produced by Jeff Smith (Never Shout Never, Trust Company, Carter Hulsey). The Album received rave reviews by many internet media outlets.
Watch/Listen: melikebees.com
***No outside food or beverage allowed in the music venue or the lodge. Utah State Law prohibits the possession and consumption of outside alcohol including beer & wine on premise. Bags may be subject to search at the music venue gate and any alcohol or outside food may be confiscated.
Dogs are allowed in the music venue, but they must be on a leash at all times, and they must stay on the grassy areas. Dogs are never allowed in the lodges or on the patio, with the exception of service dogs. Umbrellas, shade tents and chairs are allowed, but please be courteous of other guests.
If you have a tent or umbrella, please set it up near the back of the venue and do not block other's views. Low chairs welcome towards the front (cannot fit a basketball underneath) but if you have higher chairs, please move towards the back.
Chill out on the lawn with a blanket, have a beverage, and listen to some incredible FREE live music! The fun starts every Sunday at 12:00pm and goes until 5:30pm. Delicious BBQ lunch in Earl's Lodge is available ( see MENU ) as well as several local brews on tap. There are also activities and games for the kids including a bungee jump, climbing wall and playground. Blues, Brews, and BBQ is the must-do event on your Sunday-Funday list. Always free.