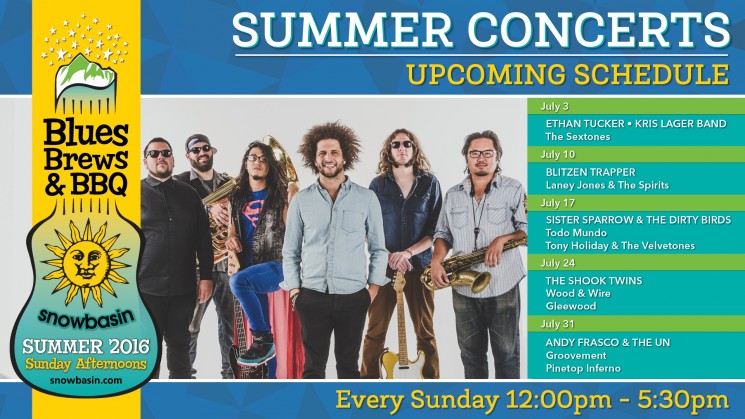 Snowbasin Blues, Brews & BBQ – Blitzen Trapper
About the artists:
Blitzen Trapper
Over the course of 15 years and seven full-length albums, Blitzen Trapper has crafted one of the more compelling and varied catalogs in contemporary rock and roll. Indeed, singer and guitarist Eric Earley, who is also the Portland, Oregon-based band's primary songwriter, is possessed of a musical and lyrical sensibility that is remarkably deep and wide; big ideas and universal emotions are wrung from the seemingly plainspoken details of small-screen and often highly personal stories, and set to music that reaches way, way back to old-timey folk and bluegrass, travels through everything from country, psychedelia and soul to prog, garage and metal, indulges gloriously in the classic rock of the 70s and 80s, and makes occasional side trips into hip-hop, skewed pop and noisey freakouts.
Watch/Listen: blitzentrapper.net

__
Laney Jones and the Spirits
There's a sort of magic when you meet someone who's doing what they're clearly meant to be doing. You can feel an electricity in the air—an energy that can't quite be explained—but you know it when you see it. This is undeniable when you meet Laney Jones. In a few short years, since picking up the banjo, this young songwriter and bandleader went from playing rural Florida watering holes to performing on PBS alongside Alison Krauss and licensing music for the likes of Disney Pixar.
Watch/Listen: laney-jones.com/music
***No outside food or beverage allowed in the music venue or the lodge. Utah State Law prohibits the possession and consumption of outside alcohol including beer & wine on premise. Bags may be subject to search at the music venue gate and any alcohol or outside food may be confiscated. Dogs are allowed in the music venue, but they must be on a leash at all times, and they must stay on the grassy areas. Dogs are never allowed in the lodges or on the patio, with the exception of service dogs.***