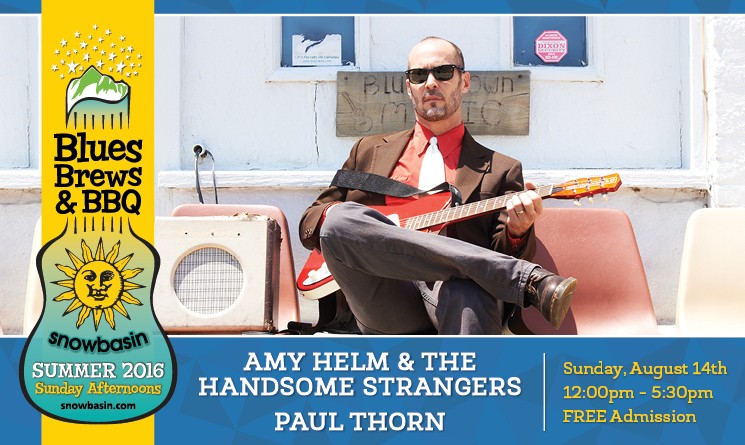 Snowbasin Blues Brews & BBQ – Amy Helm and Paul Thorn
Join us on the lawn at Earl's Lodge on Sunday, August 14 for the Blues, Brews & BBQ FREE Concert with Amy Helm and the Handsome Strangers and Paul Thorn! Bring the family to Snowbasin Resort for award-winning BBQ, family friendly activities and free live music for all ages! Every Sunday in the summer 12:00pm – 5:30pm. Only at Snowbasin Resort.
About the artists:
Amy Helm and the Handsome Strangers
"I'm just trying to tell some stories as honestly as I can," Amy Helm says of Didn't It Rain, her first solo album and her eOne Music debut.
Although the personally charged, organically soulful Didn't It Rain is her first release under her own name, Amy Helm has been making music for most of her life.  She's already won widespread praise as a singer, songwriter and live performer, first as a member of the celebrated alt-country collective Ollabelle and subsequently for her extensive work with her father, musical icon Levon Helm, who passed away in 2012.
Blessed with a commanding, deeply expressive voice and an uncanny songwriting skill that instinctively draws upon a deep well of American musical traditions, Amy Helm delivers a timelessly powerful statement with Didn't It Rain.
Watch/Listen: amyhelm.com
__
Paul Thorn
Paul Thorn's new album Too Blessed To Be Stressed stakes out new territory for the popular roots-rock songwriter and performer. "In the past, I've told stories that were mostly inspired by my own life," the former prizefighter and literal son of a preacher man offers. "This time, I've written 10 songs that express more universal truths, and I've done it with a purpose: to make people feel good."
Which explains numbers like the acoustic-electric charmer "Rob You of Your Joy," where Thorn's warm peaches-and-molasses singing dispenses advice on avoiding the pitfalls of life. The title track borrows its tag from a familiar saying among the members of the African-American Baptist churches Thorn frequented in his childhood. "I'd ask, 'How you doin', sister?' And what I'd often hear back was, 'I'm too blessed to be stressed.'" In the hands of Thorn and his faithful band, who've been together 20 years, the tune applies its own funky balm, interlacing a percolating drum and keyboard rhythm with the slinky guitar lines beneath his playful banter.
Watch/Listen: paulthorn.com
Share your photos using #SnowbasinBBBBQ!
***No outside food or beverage allowed in the music venue or the lodge. Utah State Law prohibits the possession and consumption of outside alcohol including beer & wine on premise. Bags may be subject to search at the music venue gate and any alcohol or outside food may be confiscated.
Dogs are allowed in the music venue, but they must be on a leash at all times, and they must stay on the grassy areas. Dogs are never allowed in the lodges or on the patio, with the exception of service dogs. Umbrellas, shade tents and chairs are allowed, but please be courteous of other guests.
If you have a tent or umbrella, please set it up near the back of the venue and do not block other's views. Low chairs welcome towards the front (cannot fit a basketball underneath) but if you have higher chairs, please move towards the back.
Chill out on the lawn with a blanket, have a beverage, and listen to some incredible FREE live music! The fun starts every Sunday at 12:00pm and goes until 5:30pm. Delicious BBQ lunch in Earl's Lodge is available ( see MENU ) as well as several local brews on tap. There are also activities and games for the kids including a bungee jump, climbing wall and playground. Blues, Brews, and BBQ is the must-do event on your Sunday-Funday list. Always free.
Full Schedule HERE