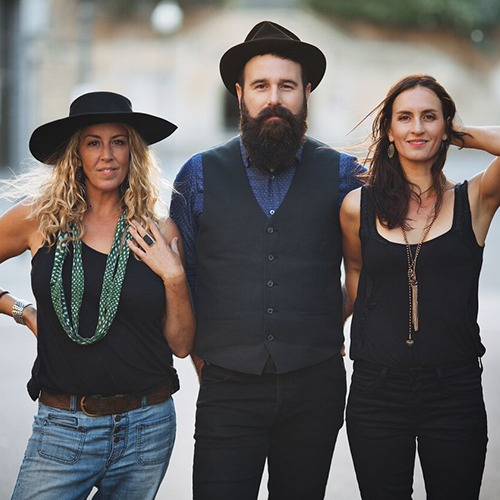 Ogden Nature Center Summer Concert – The Waifs
Beloved Australian folk rock band, The Waifs, are returning to North America with a 5-piece sound that's better than ever. A trip that began in a van in 1992, with the three troubadours playing gigs anywhere in Australia that would have them, has led The Waifs to multiple ARIA awards, platinum albums and successful tours across the world, including opening for Bob Dylan in North America and Australia in 2003.
The hard yards in those early days paid off in terms of their career, but also bound the three of them together as friends. The stripped down, cohesive return to their original sound in their sixth studio album release, "Temptation" (2011), demonstrates that for these old friends, true chemistry never fades.
"There's no danger of mistaking The Waifs' broad Strine for anything less than Aussie, as the Simpson sisters deliver tales of home and heartland – and of missing them – over the infectious amalggam of country, roots, and folk. At this point, listeners see the essential connection – between the band as players, and the band and audience, which is the source of the Waifs' success." — Rolling Stone
Tickets & Information
Tickets may be purchased online, by phone at 801-621-7595 or in person at the Ogden Nature Center, 966 W. 12th Street, Ogden.
Concerts begin at 7 pm, with gates opening at 6 pm.
Seating is general admission on the lawn.  Bring your own low-rise chairs, picnics, beverages and blankets  — they are all welcome.
The concert will be held rain or shine and tickets are nonrefundable.
Box Dinners
Box picnic dinners by Union Grill may be ordered online when you purchase concert tickets! – $11 each
Orders must be placed by Tuesday, August 11 at 3 pm for The Waifs.
Choices include:
1.  Chicken Cucumber pasta salad.  Roasted chicken breast, cucumbers and garden veggies served over pasta with a light tangy dressing. Served with chips and a homemade cookie
2.  Tomato and Mozzarella Sandwich on homemade focaccia with balsamic reduction, a side of vegetarian pasta salad, chips, and a homemade cookie
3.  Classic Caesar salad. Crisp romaine, croutons, tossed with a creamy Caesar dressing, topped with shaved Parmesan cheese and fresh tomatoes with chicken on the side, served with chips and a homemade cookie
4.  Turkey, Bacon and Avocado sandwich on whole wheat bread with a side of pasta salad, chips, and a homemade cookie
Special thanks to the following organizations for making the Ogden Nature Center Summer Concerts possible: Weber County RAMP, James & Co., Autoliv, Courtyard Marriott, Joan Evans Ahlf, Only In Ogden and Zions Bank.
– See more at: http://ogdennaturecenter.org/news-and-special-events/item/185-the-waifs-summer-concert#sthash.03h0h81t.dpuf