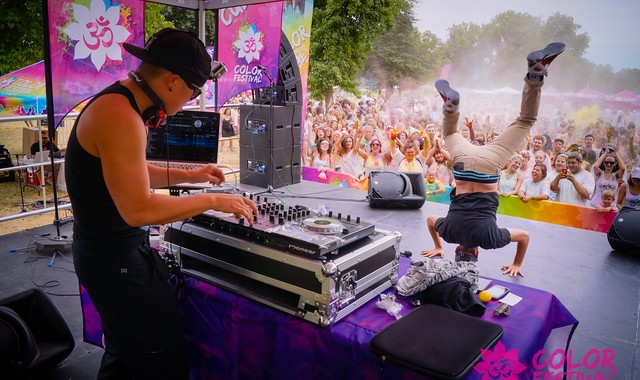 Ogden Festival of Colors
Saturday May 28, 2016 from 11:00 AM to 3:00 PM, West Stadium Park, 1650 Jefferson Ave, Ogden, UT 84404
About Festival Via via festivalofcolorsusa.com
Ancient Tradition
In India, Holi announces the arrival of spring and the passing of winter. The festival breathes an atmosphere of social merriment. People bury their hatchets with a warm embrace and throw their worries to the wind. Every nook and corner presents a colorful sight. Young and old alike are covered with colors (red, green, yellow, blue, black and silver). People in small groups are seen singing, dancing and throwing colors on each other. Though liquid colors are used in India (where it's warm) we prohibit them, as we don't want anyone to catch cold on account of the festival. Dry is better for photographs as well.
Modern Adaptation
Holi has long traditional links with several legends. According to one popular legend, the word Holi is derived from the demoness, Holika. She was the sister of Hiranya Kashipu (the name meaning love of gold and a soft bed), a demon king, who having defeated the gods, proclaimed his supremacy over everyone else in the Universe. Enraged over his son's ardent devotion to Lord Vishnu, Hiranya Kashipu decides to punish him. He takes the help of his sister, Holika, who is immune to any damage from fire. Holika carries the small boy Prahlad into the fire but a divine intervention destroys her and saves Prahlad from getting burned. Thus Holi is celebrated to mark the burning of the evil Holika. Her effigy is consumed in the fire!
Holi is celebrated with special importance in the North of India. It solemnizes the love of Radha and Krishna. The spraying of colored powders recalls the love sport of Lord Krishna and His devotees.
The color, noise and entertainment that accompanies the celebration of Holi bears witness to a feeling of oneness and sense of brotherhood. The festival brings home the lesson of spiritual and social harmony!!
A BYU student who has attended for several years, Stephanie Christiansen says, "I love the gaiety, the hilarity of it all! An unforgettable way to usher in the spring season. Even first time comers swing into the spirit of the event, as white and dark skin colors quickly disappear under layers of green, red, purple, and blue powders. "
Anjali Mangala said. "I haven't been back to India for a dozen years, but today throwing the colors, a flood of memories transported me back to my hometown and my childhood."

Since the Utah Krishna Temple started celebrating Holi in its own innovative way 15 years ago, there have been many imitators who use these same videos and photos to masquerade as the original. Be assured the Los Angeles event will be organized and managed by the same crew which has done the Spanish Fork event for 15 years, and it will be AWESOME!