5th Annual No Name Chili Cook Off – The Snowbasin Resort Culinary team will make batches of their own personal chilis to have out for the guests of the event to sample, taste, and then vote on. The winning chili will be served all year long at John Paul Lodge for the 17/18 season. Yes you, our guests, get to be a part of the process of selecting next season's chili at John Paul Lodge. So please, come up and join us in this very important culinary process that we want to share with our guests. To get your chili tasting kit, it will cost you $15 per person with $2 of every purchase going directly to the Utah Food Bank. If you bring non-perishable food items to help fill our 'Beat Hunger Gondola' that will be set-up in the middle of the plaza, your tasting kit will be automatically reduced to $13; with the $2 of each purchase still going to the UT Food Bank. All donated food items will fill our Gondola and then be taken to the UT food bank as a gift from Snowbasin Resort and Snowbasin Resort guests.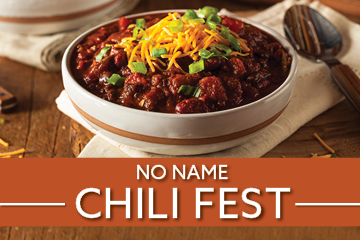 Labor Day – September 4th, 2017
Earl's Lodge and Patio
12:30pm – 4:00pm
No Reservations Needed
Price: $15; $13 with food donation
All ages, Kids Activities & Games. The gondola will be running for the public with Snacks and refreshment available at Needles Lodge with full-service dining available at Earl's Lodge.
Free Live Music from Outervibe