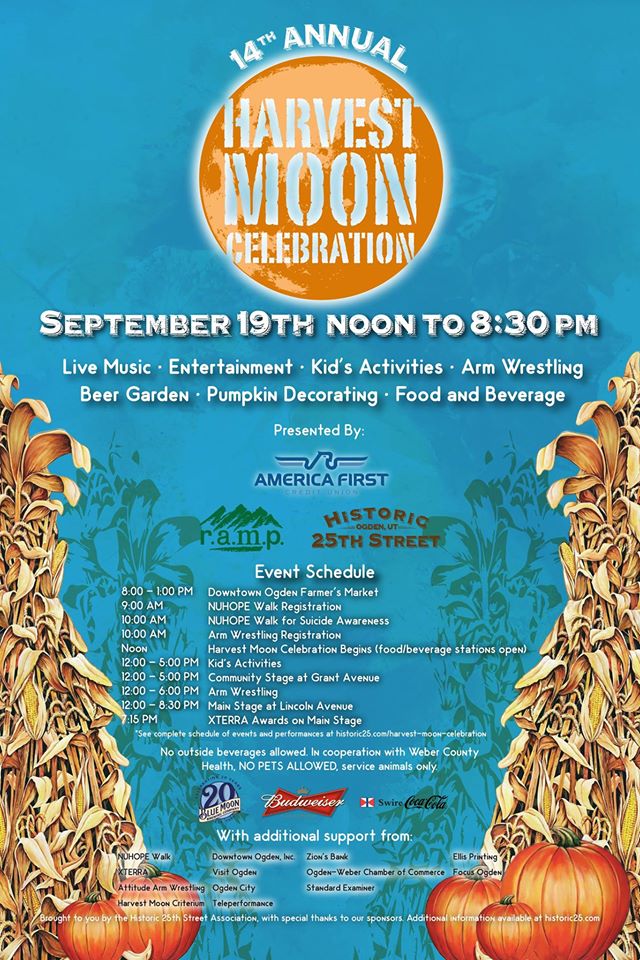 Harvest Moon Celebration 2015
Via Harvest Moon Celebration Facebook Event Page:
The fourteenth annual Harvest Moon Celebration will take place on Historic 25th Street, September 19th from noon to 8:30 pm.
Presented by America First Credit Union, Harvest Moon is our largest event of the year, an end-of-summer party with family-friendly activities, live music, Criterium Cycling races, beer garden, arm wrestling and more. Food and beverage will be available from participating Historic 25th Street restaurants, setting up mini diners in the parking strip in front of their business location.
As a street committed to locally-owned and operated businesses, we take pride in bringing together our community partners, local nonprofits and local businesses for a celebration larger than any other in Northern Utah.
This year we are bringing that local focus to the musicians as well. The lineup features local favorites and new found friends. Stage schedules will be posted in this event and on historic25.com in the coming days.
Schedule of Events
8:00 – 1:00 Downtown Ogden Farmer's Market
9:00 NUHOPE Walk Registration
10:00 NUHOPE Walk for Suicide Awareness
11:00 Arm Wrestling Registration
Noon Harvest Moon Celebration Begins (food and beverage stations open)
12:00 – 5:00 Kid's Activities
12:00 – 5:00 Community Stage at Grant Avenue
12:00 – 8:00 Main Stage at Lincoln Avenue
1:00 – 6:00 Arm Wrestling
8:00 XTERRA Awards on Main Stage
*schedule subject to change*
Coolers and outside beverages are not allowed on the street for Harvest Moon. In accordance with Weber County Health Dept, no pets are allowed on street, with the exception of service animals.
The Harvest Moon Celebration is brought to you by the Historic 25th Street Association with tremendous support from our community partners: America First Credit Union, Weber County RAMP, Golden Beverage and Blue Moon, Wasatch Distributing, Swire Coca-Cola, NUHOPE Walk, XTERRA, Attitude Arm Wrestling, Harvest Moon Criterium, Downtown Ogden, Inc, Visit Ogden, Ogden City, Teleperformance, Zions Bank, Ogden-Weber Chamber of Commerce, Standard Examiner, Ellis Printing and Focus Ogden. Thank you to our Sponsors!