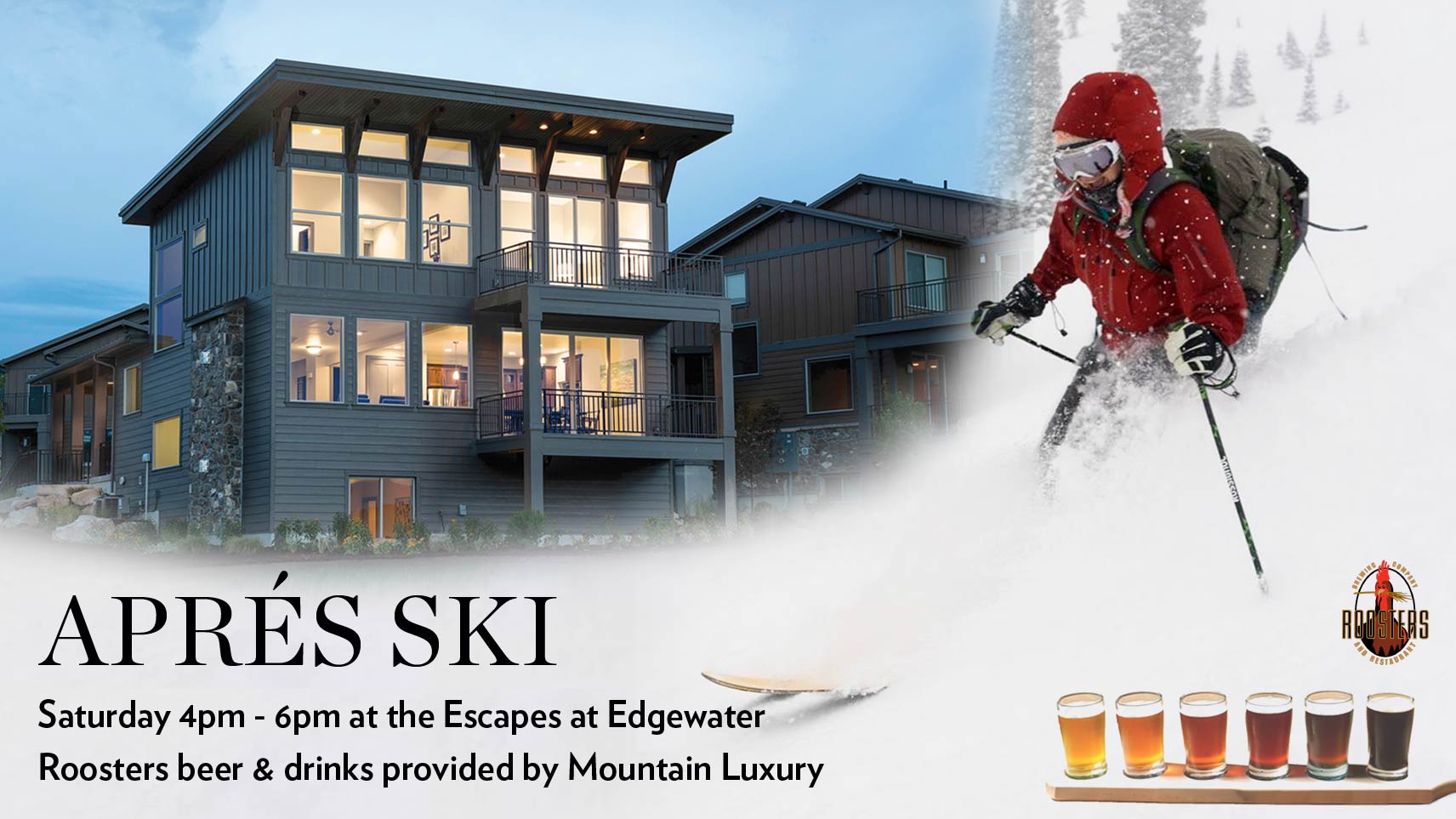 Attention all powder hounds! Please join Mountain Luxury for their Aprés Ski Party at the Escapes at Edgewater community at 5598 E. Hwy 39, (our neighbor to the west). Drinks for young and old will be on hand to wet your whistle courtesy of Rooster's Brewing Co. All are invited to view homes from 1:00-6:00 pm. Drinks and hors d'oeuvres will be served beginning at 4:00 pm. Come and relax with Mountain Luxury after spending you're day on the mountain.
Drinks on hand from Rooster's include:
Irreverent Pale Ale
This pale ale throws tradition out the window and mixes in a generous portion of Mosaic hops, which when blended with Chinook and Zeus hops, enliven the palette with hints of earthy pine, lemon and mango. 4% ALC/VOL
Patio Pilsner
A beer with it's roots in Pilsen, Czechoslovakia, this light bodied, light blond lager is heavy on flavor. It's fruity, refreshing pilsner is founded on a malty base and is dry hopped with traditional Saaz hops from the Czech Republic. 4% ACL/VOL
Hellavation IPA
The IPA from hell rises out of the depths of traditional Pale Ale and Caramel malts and is lifted to lofty heights on the wings of floral Cascade and bitter Nugget hops. 7% ALC/VOL
Bees Knees Honey Wheat
This golden American Wheat Ale, malted with white wheat and a touch of clover honey, is destined to have your taste buds all a buzz. Don't even think of dropping lemon in this deseret masterpiece.
Niner Bock
This beer is big and smooth. The Bock, meaning goat in German – from which this beer hails – is actually duplicated, making this a Dopplebock, a goat with twice the strength. This packs a punch with, as you might have guessed, a 9% ACL/VOL.
Iron Rooster Imperial Stout
This dominant powerhouse of a beer boasts a rich, black, roasty flavor smoothed to perfection with chocolate and toasted malt. Weighing in at an impressive 9% ACL/VOL, this heavy weight, inspired by Russian brewers in the 1800s, is sure to have your taste buds come out swinging. Nostrovia!