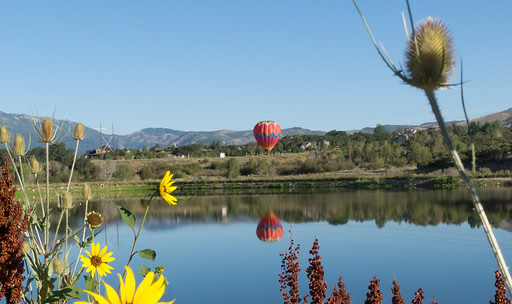 2015 Ogden Valley Balloon Festival – August 14-16
Location: Eden Park 2100 North 5600 East, Eden, Utah, just 12 miles east of Ogden City, in the heart of the beautiful Ogden Valley.
Overview From ogdenvalleyballoonfestival.com:
The event features approximately 15 hot air balloons which are the focus for 5 launches and one balloon glow throughout the weekend. After the morning launches, the activities shift to Kite displays and demonstrations, Tethered Balloon Rides, Arts & Crafts Booths, Food Booths, Kids Games & Activities and continuous live entertainment with many performers. There are free concerts at Eden Park Friday and Saturday.
History:
The Ogden Valley Balloon Festival began in 1994 as a fundraising event for Eden Park to help them construct a bowery by their playing fields. It outgrew that location and moved to the Festival Field at Wolf Creek Utah where it has been hosted since 2004. In 2014 Nordic Valley's owners, Skyline Mountain Base made a generous donation of funds and location, allowing the Balloon Festival to be reestablished. The 2015 festival will return to its beginning location Eden Park. It has since become the grand finale of the summer season, and draws visitors from around the world. It is the only Balloon Festival in the intermountain west that enhances the attraction of a balloon rally with all day arts & cultural events.
The Ogden Valley Balloon Festival is a can't miss annual event. The festival runs three days allowing attendees time to enjoy Ogden Valley, the colorful balloons, and activities. For festival tips visit http://ogdenvalleyballoonfestival.com/balloon-festival-tips/
Schedule:
Events occur over three days. For an updated schedule visit: http://ogdenvalleyballoonfestival.com/schedule/