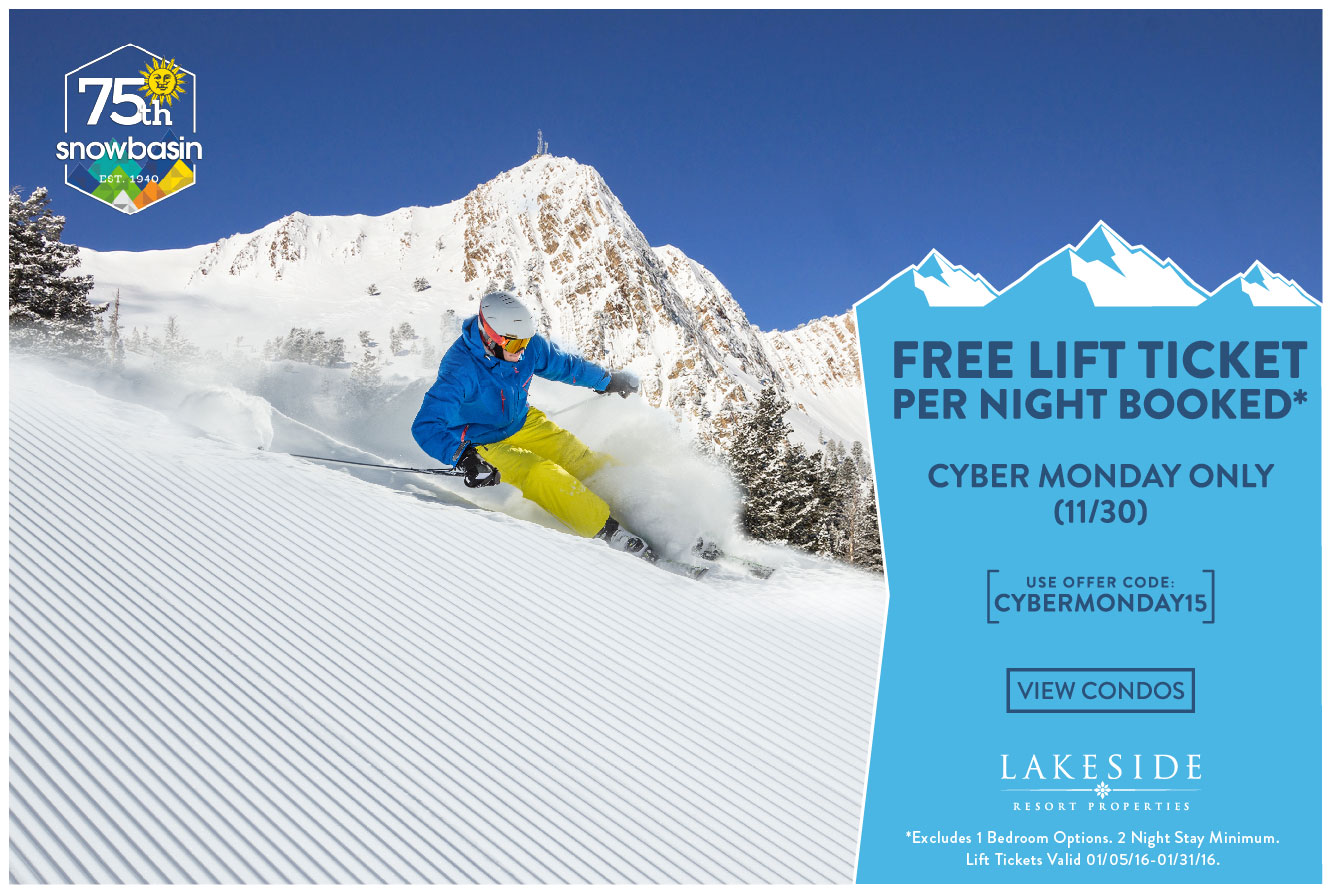 Cyber Monday Deal*: Free SNOWBASIN RESORT lift ticket per night booked at Lakeside Resort Properties.
For example, book a 5 night stay and get 5 FREE lift tickets! Use Offer Code CYBERMONDAY15 at checkout to claim your goodies.
Worried you'll forget? Be worry free, we'll send you another email bright and early on Cyber Monday. Valid only for stays between January 5, 2016 through January 31st, 2016.
Snowbasin's 75th Anniversary winter ski season is set to kick off on Wednesday, Novermber 25th with a proclamation by Ogden Mayor Mike Caldwell claiming November 25th as "Snowbasin Day!"
Via Snowbasin.com:
To kick off their 75th Anniversary Season, Snowbasin Resort will open to the public on Wednesday, November 25, with top-to-bottom skiing and snowboarding beginning at 9:00am. With recent snowfall combined with extensive snowmaking, Snowbasin Resort will offer 8 trails accessed by 3 lifts.
This past summer, Snowbasin Resort's expanded their snowmaking system which now is capable of producing snow up to 15 times longer than prior seasons. This allows for more efficiency during cold temperature periods and the ability to open more skiing and snowboarding terrain sooner than in previous years. The resort's dedicated snowmaking staff fired up the snow guns on November 5 after receiving help from Mother Nature with over 19 inches of natural snow.
To honor their 75th Anniversary Season, the first 75 guests to board Needles Gondola on Opening Day will receive a commemorative beanie. The official birthday celebration will start on November 27  as Snowbasin Resort celebrates their Proclamation Day honoring the day that the resort was proclaimed as a business 75 years prior. At 8:30am, the City of Ogden Mayor Caldwell will be on-hand to officially declare the date as "Snowbasin Day".
*Cyber Monday Deal Offer ONLY valid 11/30/15. Excludes 1 bedroom options. 2 night stay minimum. Lift Tickets Valid 01/05/16-01/31/16.
View Vacation Rentals » | Snowbasin 75th Special »